The Future of Press Trips: Top Global Travel PR Agency Shares Insights
As COVID-19 continues to radically reshape the travel and hospitality industry, one of the most important tactics in elevating the profile of leading hotels and resorts through earned media and socially driven coverage – the press trip – is an area of great debate. While it goes by many names and can take many shapes – press trips, familiarization tours or "FAMs", visiting journalist programs or "VJPs"; group trips and individual visits – in the pre-COVID era, this tactic was one of the most impactful tools in the travel PR tool kit. 
As we say at The Brandman Agency, seeing is truly believing and we know the power that firsthand experiences can bring to our media contacts and trusted influencers. Resulting coverage from press trips tends to be more robust and personal. Nuances and unique points of view are crafted as our media friends touch, taste, smell and experience everything our hotel, resort, destination, or airline clients have to offer. And no amount of smart pitching, media relations for hotels, or artfully crafted press materials can replicate that feeling of interacting with that perfectly attentive General Manager or server. The conversations our media and influencer friends have with the hotel mixologists that leads them to see the cocktail program with fresh eyes – and the taste of that perfectly balanced margarita or old fashioned that is the end result – can't be conveyed in an image or pitch sent via email. Lastly, when public relations firms curate the perfect group press trip, new industry contacts and lifelong friendships between attendees (and PR hosts!) can be formed, further enhancing the press trip experience for all involved. 
"So many of our media contacts and influencer friends - and us, frankly, as PR professionals - are feeling the whiplash from being on the road exploring destinations, hotels, and resorts multiple times a month to just a handful of trips, if any. The how, where, when, and why of when we get back to hosting in-person press trips for our clients is changing moment to moment."
But today, faced with border closures, lopsided testing capacity from state to state, and varying degrees of social distancing and mask wearing enforcement, the future of press trips is very much up in the air.
"So many of our media contacts and influencer friends – and us, frankly, as PR professionals – are feeling the whiplash from being on the road exploring destinations, hotels, and resorts multiple times a month to just a handful of trips, if any," says Melanie Brandman, Founder and CEO of The Brandman Agency. "While our wanderlust may be pent up, there's not a lot of FOMO to be had with the second wave of COVID-19 bringing new closures and restrictions. The how, where, when, and why of when we get back to hosting in-person press trips for our clients is changing moment to moment."
To help advise our tourism PR clients on the path forward with this vital tactic – in an ever changing landscape – The Brandman Agency conducted a travel sentiment survey in July 2020, polling approximately 100 of our closest and most trusted editors and freelancers. Even amongst the most passionate globetrotters, we sensed that COVID-19 had brought up mixed feelings and opinions when it came to when, where and how we'll travel in the foreseeable future. The short survey was designed to help us advise our travel PR clients on the "new normal" of press trips and tailor our approach to invites, protocols, itinerary development, and communication with these trusted contacts. The results of The Brandman Agency's Travel Sentiment Survey – shared anonymously and with aggregated findings – offers a glimpse into the future of press trips.
A Highly Personal Decision
Not surprisingly, the results of our survey showed that comfort in taking press trips in the coming months was a highly personal decision. Over half of survey participants (53.5%) said they were ready to travel with the remainder being hesitant or reluctant.  Of those, 23.3% said their bags are packed and are ready to go hit the road for a trip in the next 1-2 weeks and 30.2% said they are ready to travel and are in the process of planning their trip within the next 1-2 months. 25.6% said they are still hesitant and are waiting to see more developments/progress with COVID and the remaining 20% either answered other or indicated they would not be traveling this year. 
Roadtrip Nation
86% of survey respondents are planning to use a car for their main source of transportation for the foreseeable future, while 45% are open to using air travel. 76% said that private ground transfers (no public transportation) would also be best. In this category, media were able to select multiple answers from a list of options.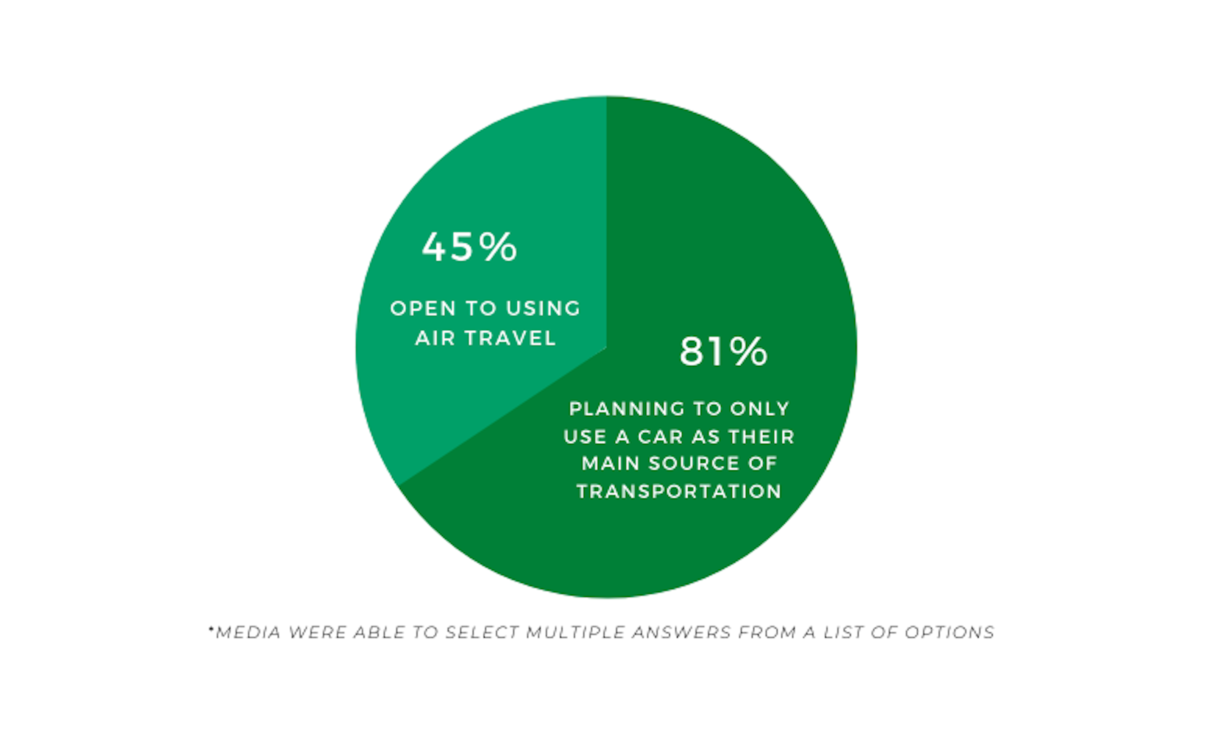 Domestic vs. International Press Trips
Of participating media contacts, the top five domestic locations media are most ready to visit, once deemed safe and in order of preference include: Sonoma, CA; San Francisco, CA; Puerto Rico; Chicago, IL; and New York City, NY. For those ready to put stamps in their passports, Japan emerged as the leading international destination media are ready to visit followed by France, Australia, Caribbean/Bahamas, Mexico, and the United Kingdom. Of those interested in taking a trip, 71% are open to both domestic and international destinations. 
Group vs. Individual Press Trips
For future trips, 81% said that individual itineraries that help to avoid large crowds and groups of people would make them most comfortable; 52% of media said they are not comfortable with group press trips this year; and the same amount said they would be comfortable with an individual trip.
The Way Forward: COVID-19 Press Trips
These findings point to the reality that there is no simple answer when it comes to the future of press trips. Mirroring the travel industry and consumer patterns at-large, media's comfort level in regards to if and how they travel – and with whom – will vary from journalist to journalist. As always, one size or solution won't fit all, but some clear patterns emerged from our survey that are worth noting.
First, smaller groups and more individual press visits with modified itineraries will be key in the immediate future. While press trips of the past were often groups of 4-6 media, flown in from target media markets, we're advising our hotel and resort clients to narrow their media and influencer target list to those within a reasonable driving distance – defined here as approximately 3-4 hours away. Many regional writers contribute to A-list national outlets and regional publications can help drive the critical drive-to market. We're also suggesting that our client reallocate the budget once used for flight support to offer mileage reimbursement for media, hosted parking, and other creative touches like small farewell gifts and water or snacks for their drive home. 
While once +1's were examined on a case-by-case basis for individual media visits, travel PR companies now see these traveling companions as critical to our media and influencer friends being able to enjoy their on-property experience comfortably. With schools and daycare centers closed, public relations firms are also putting a focus on families traveling together and positioning several of our hotel and resort clients as ideal home bases to "work and learn" remotely – a growing trend that we anticipate will accelerate in the fall. For tourism PR clients hoping to host group press trips, we're also looking at "tribes" of media from the same geographic area, who we know to be friends or acquaintances, and extending invitations for them to experience our client's properties together.
Next, hotel public relations companies are re-examining what constitutes a press trip itinerary. While we often would anchor trips with large-scale events or destination-specific news hooks – such as the opening of a new museum in a hotel or resort's backyard, a major art show such as ArtBasel, or annual festivals such as Coachella – we're now focusing on a more hotel and resort-centric experience and the 'COVID comfort' these properties can provide to a range of guests.  
We're advising our clients with stand-alone bungalows and villas – such as Hyatt Regency Indian Wells Resort & Spa in Indian Wells, CA –  to showcase this product front and center and showcase the private, in-room experiences guests can experience with their "bubbles" – whether it be families or small groups of trusted friends. For our resort clients set on acres of sprawling land and larger scale hotels – such as the properties within the Gaylord Hotels portfolio with upwards of 1,000 rooms per hotel – we're crafting messaging and press trip itineraries around the luxury of space – how these properties naturally lend themselves to social distancing due to their size.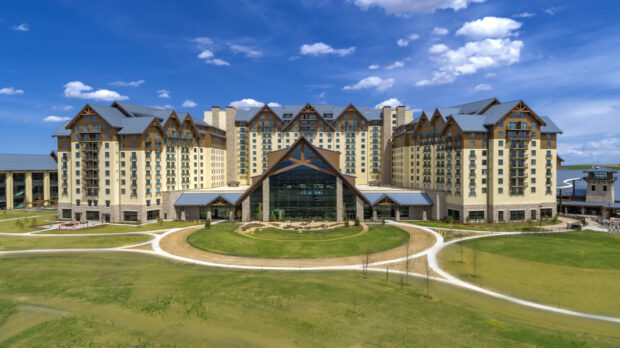 At the end of the day, it is our job to have our fingers on the pulse of media sentiment; our hotel/resort/destination's offerings and goals; and the state of the pandemic in each destination, each day, to synergize all three and help advise our clients and media on how and when to extend press trip invitations. This is no small feat, which is why – in today's climate – our travel PR clients find comfort in the agency's 20 years of expertise as a top global travel PR agency and our commitment to providing consistent senior-level counsel. 
In short, press trips are not a relic of the travel PR past, but do need to be re-examined with fresh eyes. When organizing a post-COVID press trip – one of The Brandman Agency's areas of specialization – we must recognize the need to anticipate those who remain hesitant today, so they can start to gain confidence and make their choices to opt-in to the new style of industry press trips that are clearly needed. Demonstrating to the concerned sub-set how our hotel and resort clients can meet new needs may also prove to be the key to inspiring post-COVID travelers – who will also be much more discerning and will demand the highest personal safety standards – to do the same. 
For a fresh perspective on how, when, and why to host a press trip to your hotel, resort, or destination, please drop us a line here. We're ready to help you curate a smart, of-the-moment press trip strategy to help generate awareness and business. Our bags – and masks – are packed and ready to go.