Top Global Travel PR Agency Shares 2021 Press Trip Insights
As the final days of 2020 draw near and we're busy presenting our 2021 strategic plans for our world-class roster of hospitality PR clients, we wanted to take the opportunity to get these trusted partners – and the broader travel industry – up to speed on the state of press trips for the year ahead.
A core element in the arsenal of almost every travel PR firm, individual and group press trips (also known as familiarization tours or "FAMs" or visiting journalist programs or "VJPs") are an important element in telling our hospitality PR client's stories in a meaningful way. In fact, one of our favorite expressions when it comes to press trips is "seeing is believing."
In summer of 2020, we surveyed approximately 100 of our closest and most trusted travel editors and freelancers to gauge their comfort level surrounding press trips. Building off the foundation of these findings – as summarized in the article The Future of Press Trips: Insights from a Top Global Travel PR Agency  –  we decided it was time to take a second pulse-check of media sentiment, as the first wave of COVID-19 vaccines enter the market in the US and UK.
Just days ago, the Washington Post reported  'Vaccine news has led to a spike in travel bookings for 2021 and beyond' with a key takeaway that if booking trends hold up and coronavirus cases go down, travel should be making a strong comeback by summer and fall 2021. With print lead times as they are, The Brandman Agency realized that our media friends writing for long-lead outlets would need to start their reporting efforts quickly in 2021 to meet this demand. Our goal was to understand how their views about press trips – the tool that many rely on for this very reporting – have changed with the ever-evolving state of the pandemic.
We added some new questions to the survey, based on health and safety best practices as we understand them today, and took the opportunity to gauge sentiment around the return of media events – another luxury hotel PR firm mainstay.  We asked how comfortable respondents would be with daily health checks during a group or individual trip and about requiring mandatory COVID testing prior to said trips. 
On the topic of safety precautions, we asked what steps our hotel, resort, and destination clients could take to help media attendees feel the most comfortable during a group or individual trip and gauged the comfort levels of air travel as we move into 2021. 
Lastly, we inquired about media comfort level surrounding the potential return of in-person events in the year ahead. Not surprisingly, this was the area of our survey with the widest range of results with a nearly even split between being "mostly comfortable" (33%), "in the middle" (27%) and "highly uncomfortable" (38%).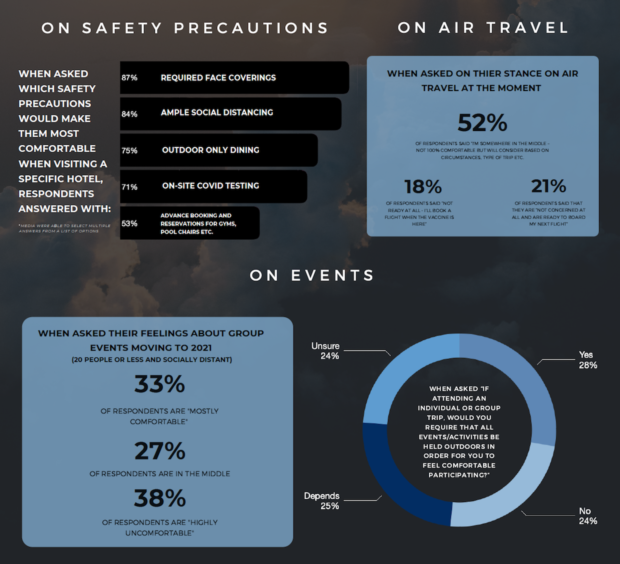 Key Takeaways
Boiling down our findings, one of our key takeaways to hospitality PR clients as we enter 2021 is to focus efforts on finding safe and smart opportunities to bring the media, influencers, and tastemakers to your hotel, resort, or destination vs. investing in events in key media markets like New York City and Los Angeles. Until the COVID-19 vaccine is widely available, your dollar will go further and A-list media and influencers will be more receptive to your invitation. 
As we turn the page on a tumultuous year, we step into 2021 with optimism that global travel is on the cusp of a rebound. While we still have a long way to go and we must remain vigilant with a safety-first mentality, vaccine news and other developments have given us hope that there's light at the end of the tunnel.
Be well and travel safe. We look forward to collaborating in 2021!